01 / nature of the project
The Birks Hotel was an audacious project to transform a century-old building from a world-renowned ground-floor retail store with rental space on the upper floors into a hotel that is as much about the updated offerings of the new spaces as it is about the appeal of the essence of the Birks house itself. The structure of the existing building required carefully planned and sensitive interventions, involving the addition of two more floors. The architecture of the complex is designed to respect the original architectural value, while giving the building a proud appearance.
02 / HISTORY OF THE BUILDING
The Birks House building was erected in 1894, following a commission from Henry Birks Sr., an emerging 19th century entrepreneur, who saw the importance of moving his business into the commercial center of Montreal at the time. This gamble quickly reaped the benefits of the efforts of the father and sons of Birks and Sons.
03 / services provided
Complete plans and specifications for new hotel space and seismic rehabilitation
Estimates for exterior brick and mass wall repairs
Additions of openings in existing floors and walls
Reinforcement of the roof structure to accommodate two additional floors
Coordinated plans and specifications for bidding, construction and TQC
Technical support, site supervision and services during construction.
04 / SPECIAL CHALLENGES AND METHODOLOGY
The century-old building, whose first phase of construction began in 1894 and of which three additional phases followed until 1940, is a mixed structure of steel, cast iron columns, wood elements and masonry bearing walls. A complete survey was required and an analysis of the structural capacity of each element was necessary to confirm the possibility of adding two additional floors under certain restrictions and structural interventions. Test pits to determine the size and depth of the footings under the existing columns and foundation walls were essential to prevent future settlements due to the addition of new loads. A visual inspection of all masonry walls, both exterior and interior, was essential in order to establish a repair program according to their degree of deterioration. The addition of a staircase and an elevator in the heart of the building was useful for the implementation of a seismic bracing system used for the seismic rehabilitation of the building.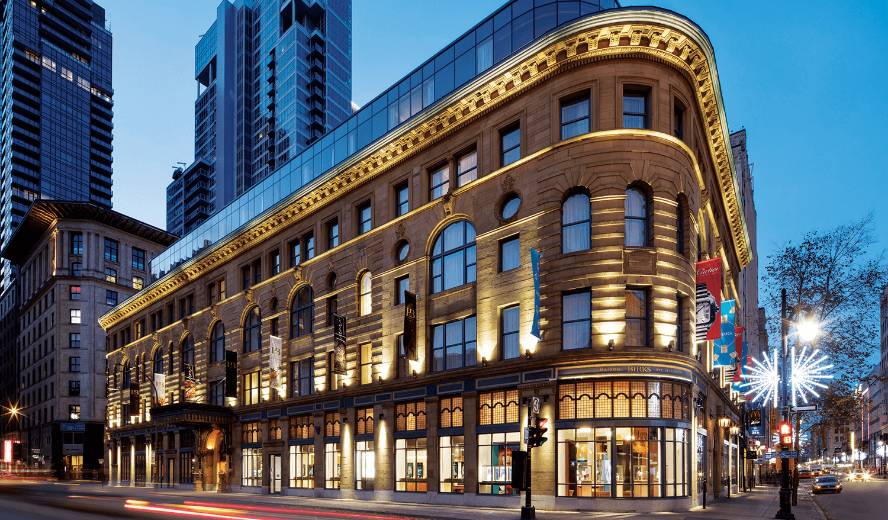 05 / solutions provided
Continuous survey of the building's bare floors for fine design purposes;
Increased technical support, research and solutions adapted to the original materials;
Seismic rehabilitation and integration of bold architectural concepts.